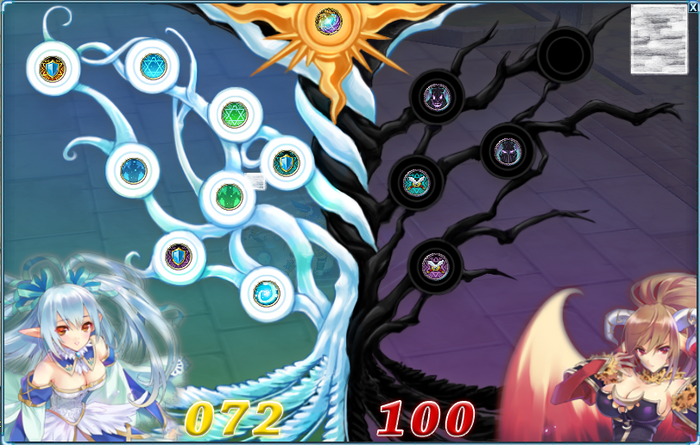 Faith also known as the "Treasure Hunting" system, is shown to the Goddesses Theia and Cadena by invading other peoples homes to search for Treasure and setting up your own House to be invaded. Earning Faith points allows you to use Faith skills.
Setting your own House up for invasion earns you points towards the Goddess Theia.
Invading other peoples houses for Treasure will earn you points towards the Goddess Cadena.
Using Faith skills will use up Faith Points for the corresponding Goddess.
| | | | | | | | |
| --- | --- | --- | --- | --- | --- | --- | --- |
| Skill Name | Light | Dark | Cast Time | Effective Range | Duration | Cooldown | Effect |
| | - | - | 0 sec | 40m | - | - | Can enter the Gate of Time. |
| | 1 | - | 0 sec | 0m | - | - | Teleport to locations. |
| | 50 | 50 | 3.0 sec | 0m | - | - | Summon a door that will lets you summon party members. Door lasts for 2 minutes. Party members can refuse the summons. |
| | 10 | - | 3.5 sec | 0m | 1800 sec | 4.0 sec | Increases max HP by 20%. |
| | 25 | - | 3.5 sec | 20m | 1800 sec | 4.0 sec | Increases max HP of combat pet by 20%. |
| | 12 | - | 3.5 sec | 0m | 1800 sec | 4.0 sec | Increases max MP by 20%. |
| | 30 | - | 3.5 sec | 20m | 1800 sec | 4.0 sec | Increases max MP of combat pet by 20%. |
| | 5 | - | 3.5 sec | 20m | 1800 sec | 4.0 sec | Increases the magic and physical defense of combat pet by 20%. |
| | 15 | - | 3.5 sec | 20m | 1800 sec | 4.0 sec | Increases the magic and physical defense of combat pet by 50%. |
| | 32 | - | 3.5 sec | 20m | 1800 sec | 4.0 sec | Increases the magic and physical defense of combat pet by 120%. |
| | - | 12 | 3.5 sec | 20m | 1800 sec | 4.0 sec | Increases the magic and physical attack of combat pet by 20%. |
| | - | 25 | 3.5 sec | 20m | 1800 sec | 4.0 sec | Increases the magic and physical attack of combat pet by 75%. |
| | - | 35 | 0.5 sec | 0m | - | 6.0 sec | Summons a random Dark Guardian to fight for you for 60 seconds. |
| | - | 40 | 3.5 sec | 0m | - | 6.0 sec | Summons the Dark King to fight for you for 60 seconds. |