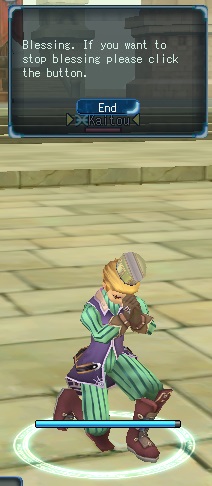 Blessings are a method of gaining experience and items, while providing other players combat, wealth, and work benefits, all while you are afk, or offline. Blessing can be done at any level, though as you level up, greater Blessings are available.
In order to use the Blessing system, open your Important Instructions tab (E), and then use the Blessings skill. You will then need to select a player from the list. Blessings can only be done for players on your Friends list or Soul Mates. After you start blessing someone you can quit at any point or leave the game completely and it will continue to bless them as long as you are alive.
Items and experience earned from Blessing will be granted at 5 minute intervals.
Wishing Dolls are the primary method of earning Nice & Happy Person Cards.
Blessings stack on the targeted player further increasing the effects.
Blessings
Edit
| | | | | |
| --- | --- | --- | --- | --- |
| Blessing | Level | Experience | Item | Effect |
| Battle Fortune Wish | 0 | 4 | - | 1% |
| Agility Fortune Wish | 0 | 4 | - | 1% |
| Love Fortune Wish | 0 | 4 | - | 1% |
| Wealth Fortune Wish | 10 | 4 | - | 1% |
| Work Fortune Wish | 10 | 10 | - | 1% |
| Greater Battle Fortune Wish | 20 | 80 | Wishing Doll | 2% |
| Greater Agility Fortune Wish | 20 | 80 | Wishing Doll | 2% |
| Greater Love Fortune Wish | 20 | 80 | Wishing Doll | 2% |
| Greater Wealth Fortune Wish | 30 | 130 | Wishing Doll | 2% |
| Greater Work Fortune Wish | 30 | 130 | Wishing Doll | 2% |
| Ultimate Battle Fortune Wish | 40 | 150 | Elegant Wishing Doll | 3% |
| Ultimate Agility Fortune Wish | 40 | 150 | Elegant Wishing Doll | 3% |
| Ultimate Love Fortune Wish | 40 | 150 | Elegant Wishing Doll | 3% |
| Ultimate Wealth Fortune Wish | 45 | 160 | Elegant Wishing Doll | 3% |
| Ultimate Work Fortune Wish | 50 | 180 | Elegant Wishing Doll | 3% |
| | | | | |