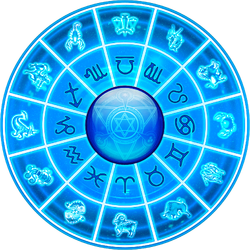 The Zodiac and Horoscope system in Lucent Heart is based on the astrological sign of your chosen birth date at Character Creation. Unlike many games, your sign has many effects on game play and your character growth in Lucent Heart.

Each sign has several unique skills they offer, in addition, they also have armor that appears different when Unleashing your Zodiacs hidden potential. They also obtain many passive stats through the Astrolabe system. Zodiacs also affect a set of daily and weekly passive bonuses called Fortunes.
Astrolabe
Edit
The Astrolabe is where you unlock your Zodiacs unique abilities and potential. It becomes available at level 10 through a quest.
Every 5 levels a new Astrolabe star is unlocked.
There are up to 3 choices you can make to permanently alter your character listed as a. b. and c. below, only one can be chosen.
Level 10 you unlock the ability to invoke your Zodiac healing you or otherwise triggering Awakening abilities listed below.
Level 15 you unlock your first Zodiac skill.
Level 30 you unlock Zodiac armor and increased health and mana based on your Astrolabe choices.
Level 35 you unlock your second Zodiac skill that can only be used when Invoking Zodiac armor, some are passive.
Level 40 the duration of your first Zodiac skill is increased from 30 to 45 seconds.
Level 60 you can gain access to a Specialized Weapon skill of a different class, based on your class.
Level 65 offers unique Class based skills.
Level 70 unlocks Emotion based skills that use Emotion Points for very powerful buffs and effects.
Community content is available under
CC-BY-SA
unless otherwise noted.